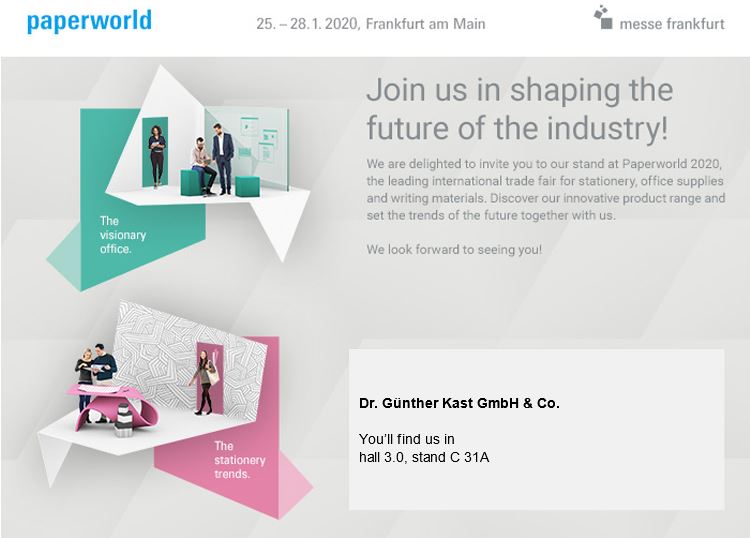 Company KAST presented on paperworld Frankfurt/ Main, the international fair for stationery and office supplies
From January 25 to 28, 2020 the KAST-team presented on paperworld at Frankfurt am Main (Germany) current materials like 3-layered paper with reinforcement and discussed with interested visitors individual solution made of paper, textile, scrim or film for letter / merchandise-envelopes and packaging solutions with exceptional technical or visual requirements. Furthermore basic materials for production of tear-resistant tags, labels, special papers for heavy-duty-applications – all you could imagine to be coated, laminated, multi-layered or surface finished.
This fair confirmed the current change to more ecological solutions. Envelopes and gussets are getting used more and more for the dispatch of small items in e-commerce compared with original use for correspondence and invoices which are getting sent out increasingly by e-mail.
The German association of envelope producers VDBF and their members presented interesting solutions for the delivery directly into the mailbox. This ecologically reasonable solution reduces plastics, packaging waste, capacities on delivery vehicles and simplifies the delivery without the recipient's presence by dispatch directly into the mailbox. So Envelope 2.0 is the faster, smarter and ecological better way for private or small-scale consignors.
KAST-materials Papyrolin and PaperFilm, the scrim or film reinforced papers, are excellent for mailbox-appropriate packaging by enhanced stability and tear resistance, smarter handling and eco-friendliness.
On VDBF's paperworld booth these advantages of envelope 2.0 were clearly presented in several lectures which invited all specialist dealers to a more active presentation in the retail stores. The response was amazing and provides more evidence of the new general trend.